Investing In A Certified Home Safe
Investing In A Certified Home Safe
When you have decided to invest in the peace of mind and protection a properly anchored and certified home safe offers, it is important to be realistic, not only about your immediate requirements but what might be needed to future proof your home safe in the long term.
Home Safe Size And Function
Size and function is something you need to be realistic about, after all, a safe should ideally be a once in a lifetime investment. In recent years with increased working from home, people are becoming more aware that items such as laptops, documents, flash keys, as well as jewellery and other household items should be protected from burglary, technology and the data it contains having an increasing value in the home.
Many people now find that a tall but slim certified safe can accommodate all the needs of secure storage for technology, jewellery and other household item while easily fitting into the average home, providing a long-term facility with certified burglary and fire resistance for the most treasured belongings of the entire family.
A Properly Certified Grade
The first and most important issue is making sure that the safe you are investing in has a European accredited certified burglary resistance and that the grade of the safe you are choosing has an Irish Safes Ratings Group (ISRG) rating sufficient to allow for increases in value of jewellery, watches, and precious metals over time.
The European burglary resistance standard for safes is EN1143-1 and ranges from 0 to 5 for practical purposes. If paper documents or data are to be protected, make sure that the safe you choose has accredited European certification for fire or data protection. The standard for paper document protection from fire is EN15659. The standard for data is EN1047-1. Always insist on certification documents from your supplier and check that they match the safe.
What Accredited EU Certification Looks Like
All properly certified safes will display an accredited certification plate that is clear and easy to understand. At least one certification plate can be located on the inside of the door of any certified safe. This will always be a stamped metal plate, never a sticker. Certification plates should state the products' description, display the logo of an accredited certification body and indicate that the body is accredited to ISO/IEC 17065. This is a verifiable assurance that a safe has been tested and certified under European law, proof of standard for insurance, GDPR and litigation purposes.
If you consider that 70% of safes that are tested by accredited European testing labs fail on the first attempt, the implications of some manufacturers and safe suppliers displaying unaccredited "certification" badges that claim to comply with European standards is obvious. Don't be misled.
Accredited EU Certification Logos For Safes:
Below are logos of four certification bodies with European accreditation to certify safes. The example images of certification plates below them are from ECB-S but any of the four logos below may appear.
• Certified Safes EN1143-1
EN1143-1 is the burglary resistance standard for safes. Resistance to attack rises by 50% between grades. Certification for fire resistance will appear separately to any burglary resistance certification that may appear on a certified safe.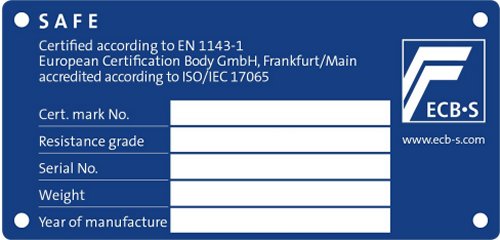 • Certification Fire Resistance EN15659 / EN1047-1
There are too many examples to count of "safes" it is claimed have a fire "rating", "approval" or are "tested" for fire resistance. In Europe the only fire standards for safes and data cabinets that have accredited certification are units certified EN15659 for paper and EN1047-1 for documents and data. Accredited European fire tests include multiple size testing and a 9-meter drop test after furnace testing.
Professional Safe Anchoring
The 50kN (5.089 tons) Minimum (EN1143-1)
Certification is void for a safe not anchored correctly and there are many examples most insurers will be familiar with of a "safe" being removed from a premises because it was not anchored correctly if at all. It is a certification requirement under EN1143-1 that a safe is anchored however the EN1143-1 standard does not yet specify how this is to be achieved which often results in bare minimum, highly unsafe installations.
Certified Safes Ireland™ have always used anchoring methods designed to replicate standards used in EN1143-1 accredited laboratory testing as the best guide to making the unauthorised physical removal of our safes virtually impossible. This is done in a manner designed to achieve at least a holding force of 50kN (5.089 tons) for a safe up to grade III and 100kN (11.24 tons) over that grade. Holding forces that as you can imagine, rule out removing a safe without truly industrial levels of force.
• Moving A Safe After Install
If you ever need to move your safe, the concrete anchor securing your safe can be accessed from the inside of the safe. If a certified safe needs to be moved to another location, as long as the anchor can be accessed from the inside of the safe, it can be unbolted and lifted off the anchor. The anchor itself is usually impossible to remove so must be cut and the the anchor hole filled, but this is not a difficult job for a trained safe technician.
Remember: Always ask for a certificate of anchorage to protect everyone's interests.
Home Safe Control And Locking
All Certified Safes Ireland™ safes come with multi-user, EMP resistant certified digital locks as standard. There are a wide range of locking and alarm integration options that can only be found with certified digital locks. Most options are both low cost and easy to use and may suit your particular requirements or lifestyle. All offer a far higher level of both security and flexibility than their mechanical counterparts.
Standard features with all digital locks we supply are as follows:
Penalty Lockout

The penalty lockout feature on a certified digital lock shuts the lock down for ten minutes if four or more incorrect codes are entered in a row making manipulation and random code entry attempts virtually impossible. This is a standard feature with all certified digital safe locks which has no equivalent with any mechanical lock type.

Multi-user Codes

Most certified digital safe locks have multi-user codes which means no two people have to use the same code to access a safe. This means that an individual user code can be removed by master code at will, while ordinary users can only change their own codes. Audit versions of this lock are available. No need to worry that keys may have been copied or codes shared etc...

Dual Codes

Most certified safe locks will allow dual code operation, which means two codes have to be entered to open the lock. Ideal in situations where dual person operation is preferred.

Duress Alarm

Many certified digital locks can be added to your alarm system via an Alarm Module. With an Alarm module in place if a hold-up occurs addition of a digit to the normal access code will trigger a silent alarm.
Home Safe Alarm And Electronics Integration
The addition of electronic monitoring devices such as seismic sensors and emergency facilities such as duress signalling is a relatively low-cost affair for most home safes. A wide range of electronic monitoring, signalling and anti-tamper devices are easily fitted to, or already integrated into, many of the certified electronic safe locks available on the market.
Once your safe has been correctly anchored to achieve 50kN (5.08Ton), for all intent and purposes it is an immovable object without truly industrial levels of force. A seismic sensor for example, will detect prising, cutting, drilling and heat attacks, but is not triggered by normal everyday use of the safe. What is particularly convenient about a seismic sensor is it is tamper proof and works 24/7 even when an alarm system is switched off.
With so many tested and certified alarm integration devices made for safes, EN50131 (alarm standard) compliant integration of a home safe can be easy, and low cost, while greatly increasing overall security and reducing risk for you and your insurer.
Insurance Rates And Cover
The rates shown below presume a monitored intruder alarm is installed in the premises where the safe is situated. It is not hard to encounter rates that differ from these indicative rates as unfortunately there are many safe suppliers, some well known, that invent higher rates to attract business. It is often the case that displaying false rates is an indication of more serious issues with a supplier who does so.
Some insurers may decide that a higher cover is warranted based on their risk assessment, some may decide the specification of the safe is not adequate or may insist on various types of monitoring. For higher levels of cover a certain amount of negotiation is to be expected and additional measures may be required to mitigate risk.

The European standard for secure cabinets is: EN14450
The European standard for safes is: EN1143-1
The European standard for deposit safes is: EN1143-2

Amounts in €1000 units
Contents cover is five times cash rating
Grade
Standard
Type
Cash
Jewellery / Contents
S1
EN 14450
Secure Cabinet
Not Advised
Not Advised
S2
EN 14450
Secure Cabinet
Not Advised
Not Advised
0
EN 1143-1
Safe
€7,500.00
€37,500.00
I
EN 1143-1 / EN 1143-2
Safe / Deposit Safe
€12,500.00
€62,500.00
II
EN 1143-1 / EN 1143-2
Safe / Deposit Safe
€25,000.00
€125,000.00
III
EN 1143-1 / EN 1143-2
Safe / Deposit Safe
€50,000.00
€250,000.00
IV
EN 1143-1 / EN 1143-2
Safe / Deposit Safe
€90,000.00
€450,000.00
V
EN 1143-1
Safe
€150,000.00
€750,000.00
VI
EN 1143-1
Safe
€200,000.00
€1000,000.00
Recommended amounts are for indicative purposes only and are subject to approval by the insurer on a case by case basis
Certified deposit safes are only available in grade 1 to 5 and display the certification EN1143-2. Any other mark not accepted
Certified safes with a weight of <1.000 kg must be anchored at the place of installation in accordance with the EN1143-1 specification
NA – Not advised
PA – Prior approval recommended – It's necessary to discuss this cover in detail with your insurance company as it falls outside normal recommendations

Download A Copy Of ISRG Rates - June 2020
Common Safe Trade Scams
The secure storage business has for a long time been an extremely attractive opportunity for criminals and fraudsters. Even today there are well known suppliers of secure storage advertising in the media, on the internet or at exhibitions who have associated with criminals or served time in jail. Many continue to have no reservations in mislabelling products, making fraudulent security claims, selling "refurbished" safes that contain asbestos or counterfeiting and making certification claims that have no basis in reality. Needless to say, we recommend that before you engage a safe supplier that you do a quick check into the background, credentials, and experience of who you may be buying from, divulging information to, or letting into your home.
Thankfully, the internet has made it extremely easy to do a quick search using the name of your supplier and checking the background of the individual or business you are dealing with. Always remember when making your assessment, facts are what is important. Press articles or "experience" mean extraordinarily little. Look for verified qualifications and a knowledge of European standards, something an honest safe supplier should be able to demonstrate.
• EN14450 Secure Cabinets Are Not Safes
Many safe suppliers even very well-known ones, still market EN14450 "secure cabinets" as safes. As there is similarity between the standard designation for a safe (EN1143-1) and the standard designation for a secure cabinet (EN14450) the two standards can easily be confused, a confusion that is often taken advantage of.
EN14450 is the "secure cabinet" standard. It is not a safe standard. The EN14450 "secure cabinet" standard does not have an insurance rating in Ireland or most other European countries as insurers do not regard it as adequate to protect against burglary attack. Yes, you will likely come across websites not only telling you that an S1 or S2 secure cabinet is a safe but that these units have a sometimes substantial overnight cash or jewellery rating. As this is not true in most countries in Europe, including the Republic of Ireland, such sites are best avoided.
• Never Buy An Uncertified Second-Hand Safe
Without a doubt the vast majority of second hand safes on the market today are not fit for purpose and many can potentially be highly dangerous. If you are offered a safe that has no certification badge or that is marked as having been manufactured before the year 2000 (Asbestos ban in Ireland) the person offering you the safe is quite likely breaking the law unless they have documented proof from the manufacturer that the unit in question does not contain asbestos.
Due to the huge numbers of second hand safes for sale in Ireland that are not only missing parts and may have been previously damaged, but may also contain asbestos, the Health And Safety Authority of Ireland (HSA) issued a Legislation & Enforcement notice entitled "Asbestos Risks In Safes And Fire-Resistant Cabinets" on the 21st of October 2019.

This Legislation & Enforcement notice covers all safes, fire cabinets or vaults manufactured before the year 2000.

The new HSA notice states:
"The EU-wide ban on the marketing and sale of asbestos-containing products applies to second-hand or refurbished safes and cabinets that contain or are presumed to contain asbestos."
"Where the asbestos-free status of a pre-2000 safe or cabinet cannot be established or is uncertain, it must be presumed to contain asbestos."

HSA Enforcement Notice
Certified Safes Ireland™ director Alan Donohoe Redd is a member of the European CEN263 Working Group responsible for writing European Standards for safes, strong rooms, secure cabinets and physical data protection for the European Union.