Accredited, Certified Safes For Home And Business

Accredited, Certified Safes For Home And Business
The Importance Of Documentation And Certification
Accredited European Certification is verifiable assurance that a safe, fire safe, data cabinet or strongroom has been tested and certified under European law. This is proof of standard for insurance, GDPR and litigation purposes. A reputable safe supplier will always provide accredited certification documents for a certified unit. The safe, fire safe, data cabinet or strongroom will have at least one certification plate which can be located on the inside of the door. This will always be a stamped metal plate, never a sticker. The certification plate will clearly state the certification standard, the name of the accredited certification body and an ISO/IEC17065 accreditation. The ISO/IEC17065 accreditation will also be noted on certification documents. All plates clearly state the European certification standard and the name of the accredited certification body, ECB-S, VDS, CNPP or SBSC.

---
Scalable Certified Solutions
---
Certified Safes Ireland™ offer a range of scalable certified secure storage solutions for the private and commercial storage of cash, gold, silver, jewellery, watches, documents, art objects, high value materials and other valuables. From discreetly fitted certified safes, fire safes and data safes in a range of sizes to strongrooms. Our specification, design and installation team are specialists. Certified Safes Ireland™ is part of the ICS Group, a group of NATO registered contractors fully licensed in Ireland for all electrical, intruder alarm, CCTV, access control, fire suppression, fine art protection and monitoring activities. This means that we can integrate any safe, strongroom or data storage with alarm, audit and signalling devices seamlessly and confidentially to the highest standards. We can also make the unauthorised physical removal of any safe or data unit virtually impossible. 
---
Private And Commercial Safes
---
We are fully aware that some private clients, high net worth individuals and collectors can have specifications and requirements to suit specific tastes, aesthetics, or security concerns, while businesses may need large amounts of secure storage space. Our extensive range of Austrian, German, and Scandinavian manufactured safes have the highest level of accredited European certification available and a range of designs, sizes and specifications to suit all applications. Internal fittings can include lockable compartments, pull out drawers, segmented drawers for data storage as well as drawers and compartments specially designed to store valuable jewellery that can be customised to most if not all requirements. Above all you can have confidence that your secure storage has been tested and certified against burglary and fire by Europe's leading accredited technical laboratories and certification bodies, so will be recognised as a potent defense against these risks by all insurers for many years to come. 

---
Fire Resistance For Safes
---
As well as the highest levels of burglary protection, Certified Safes Ireland™ provide fire protection options for paper and magnetic data to accredited certified European and NATO standards that include a 9-meter drop test after furnace testing. These accredited European fire test standards far exceed the fire resistance requirements of Swedish NT standards which are common in many safes due to a less strict testing, application, and surveillance regime that does not include drop testing, multiple size testing or market surveillance.
---
Diamond Core Drill Resistant Safes (CD)
---
Of all the tools that a professional burglar may use to attack a high grade safe or strongroom, the most potent and practical by far is the diamond core drill. This tool is low cost, portable and can be used to significantly reduce the barrier material penetration time on most safes and strongrooms that are not certified to resist it. That is why we offer additional diamond core drill resistance certification (CD) on all high-grade safes. Even though alarm integration for us is fairly standard, the addition of core drill resistance to a safe adds yet another layer of protection against any kind of rotating disc or drilling tool that is currently available.
---
Multi-User And EMP Resistant Safe Locking
---
All of our safes come with multi-user, EMP resistant certified digital locks as standard. Multi-user means that different members of family or staff can be added and removed from safe access at will. There are also a wide range of locking and alarm integration options that are both low cost and easy to use, that may suit your particular requirements or lifestyle.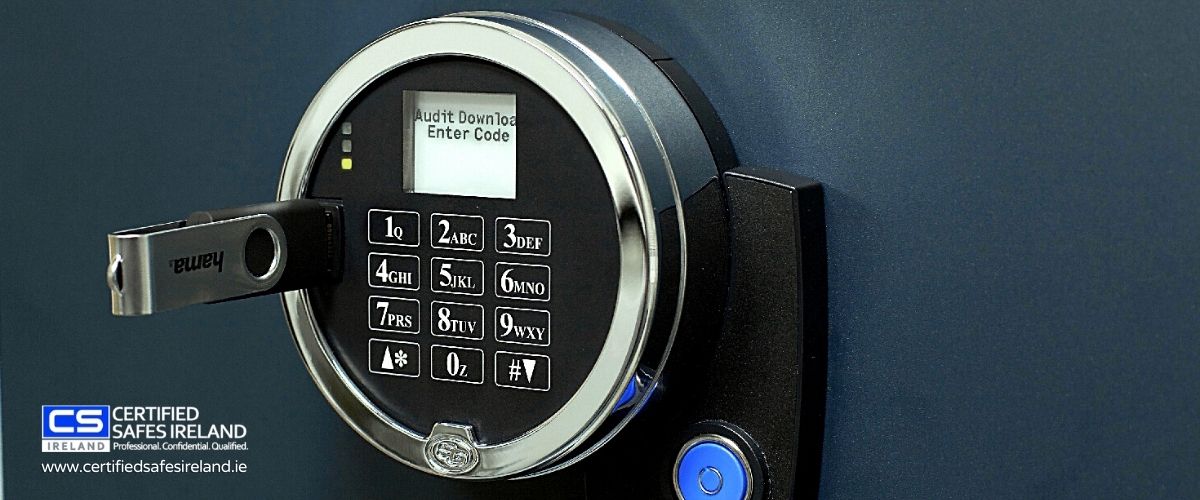 ---
Safe Locking And Monitoring Options
---
Duress - Duress is a basic feature that is optional with all of our safes. Duress means that by entering your normal safe lock code, but varying the first or last digital by 1, a silent emergency alarm signal can be sent.
Remote disable - An enable/disable signal can be sent to the safe lock from an alarm panel or mobile phone. This handy feature is available with most lock types we supply.
Seismic Sensor - As a properly anchored safe is secured to at least 5 tons, and a certified digital safe lock cannot be manipulated open, power tool attack is the only option left for a professional burglar. A seismic sensor detects cutting, drilling and heat attacks, but is not triggered by normal safe use. Particularly convenient is the fact that a seismic sensor is tamper proof and will work even when an alarm system is switched off.
Bolt Position Indicator - Bolt position indicators share open and close information with your alarm system and can be used for audit, send a notification, open a video link, or send a door open notification if the door of the safe has been open for too long. Bolt position switches can be fitted to a safe's internal bolt work and door, allowing you to monitor and confirm that the safe's door is closed and locked.
Time Lock - Time Lock gives you all the benefits of a bank level high security time lock system with built in audit. You can control when your safe can be accessed, by whom and download access logs from the lock telling you who opened the safe, when, and how long the safe door and lock was open. Up to 30 holidays can be programmed that override the normal schedule. Automatically adjusts for daylight saving time. We can even program a time lock schedule that restricts specific people's access.
Audit - Audit tells you when your safe was accessed, by whom, and how long the safe door and lock was open. Audit is a standard feature with time lock and some alarm system have the capability to allow audit logs of access to your safe to be recorded and downloaded remotely.
One Time Code - Easily retro fitted onto most existing safes or strongrooms, a One Time Code system (OTC) means that opening and closing is controlled by single use codes generated by a certified monitoring station after the identity of the person requiring access has been verified. The person accessing the safe or strongroom also requires their own personal code and a special key fob that records the opening and closing state of the lock. Time and date specific one-time codes can be issued in advance by the monitoring station for use within a 15-minute window, weeks, or months in advance.
---
Insurance Rates And Cover
---
The rates shown below presume a monitored intruder alarm is installed in the premises where the safe is situated. It is not hard to encounter rates that differ from these indicative rates as unfortunately there are many safe suppliers, some well known, that invent higher rates to attract business. It is often the case that displaying false rates is an indication of more serious issues with a supplier who does so.
Some insurers may decide that a higher cover is warranted based on their risk assessment, some may decide the specification of the safe is not adequate or may insist on various types of monitoring. For higher levels of cover a certain amount of negotiation is to be expected and additional measures may be required to mitigate risk.
The European standard for secure cabinets is: EN14450
The European standard for safes is: EN1143-1
The European standard for deposit safes is: EN1143-2

Amounts in €1000 units
Contents cover is five times cash rating
Grade
Standard
Type
Cash
Jewellery / Contents
S1
EN 14450
Secure Cabinet
NA
NA
S2
EN 14450
Secure Cabinet
NA
NA
0
EN 1143-1
Safe
€7,500.00
€37,500.00
I
EN 1143-1 / EN 1143-2  
Safe / Deposit Safe  
€12,500.00
€62,500.00
II
EN 1143-1 / EN 1143-2
Safe / Deposit Safe 
€25,000.00
€125,000.00
III
EN 1143-1 / EN 1143-2
Safe / Deposit Safe
€50,000.00
€250,000.00
IV
EN 1143-1 / EN 1143-2
Safe / Deposit Safe
€90,000.00
€450,000.00
V
EN 1143-1
Safe
€150,000.00    
€750,000.00
VI
EN 1143-1
Safe
€200,000.00
€1000,000.00
Recommended amounts are for indicative purposes only and are subject to approval by the insurer on a case by case basis
Certified deposit safes are only available in grade 1 to 5 and display the certification EN1143-2. Any other mark not accepted
Certified safes with a weight of <1.000 kg must be anchored at the place of installation in accordance with the EN1143-1 specification
NA – Not advised
PA – Prior approval recommended – It's necessary to discuss this cover in detail with your insurance company as it falls outside normal recommendations

Download A Copy Of ISRG Rates - June 2020